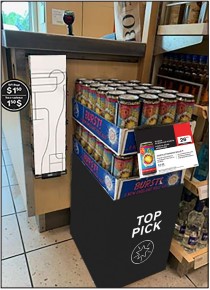 The RTD Impulse program is aimed at encouraging customers to build their basket at the last touchpoint in their customer journey in-stores.

This promotional program includes placement within an LCBO created digital playlist (approx. 6 seconds in length) that will be played for the duration of the promotional period at select checkouts at stores 217 and 164.

For FY25, these displays will be focused on RTD products with Aeroplan Bonus Point Offers.

These are MPTS Applied Promotional Programs. Please apply through MPTS directly before the deadline. 
Engagement:
• 175 Stores total (each display)
• Refer to www.doingbusinesswithlcbo.com for Participating Stores.

Assortment Requirement:
• 1 SKU maximum per display (with a BAP) Digital Screens:
• Includes placement in digital screen at the Cash Area of stores 217 and 164

LCBO.com Paid Placement Positioning:
• Prime (first page) placement on the respective sub-category search page on LCBO.com. This placement results in 6.8x more likely to be clicked vs second page placement.

This Package, inclusive of all opportunities and non-negotiable, is available at the following rates:

Refer to the Seasonal Overview section for Product Allocations by Period.

*Pricing has been updated for FY25