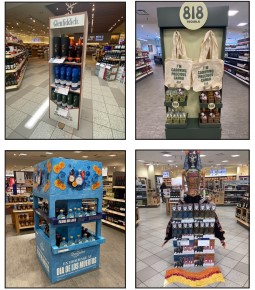 Select stores have been identified to have capacity for a display activation, which will focus on enhancing the customer experience in-store and tell a strong brand story tethered to a tactical occasion. This display can live for up to 4 weeks. Tastings are possible with this display, but must be applied for separately through the in-store tasting application process, and are not guaranteed.

This activation must have a supplier-produced merchandiser (max size: 32" w x 44" l x 72 h" [including relevant signage]), and the merchandiser creative and details on how LCBO product signage (i.e. 8" x 7" Pricer Cards) are displayed on the merchandiser must be submitted for approval at the time of the initial application.

This is an Excel Applied Promotional Program. Please apply by completing the Excel Application Form before the deadline.
Engagement:
• Up to 51 stores total
• Refer to the Participating Store Lists linked below for stores and flighting information.

Assortment Requirement:
• 2-8 SKUs (including VAs, if applicable)

Supplier Produced Merchandiser:
• Artwork and merchandiser MUST BE provided by supplier and approved by LCBO.
• Click here for guidelines.

These displays, inclusive of all opportunities and non-negotiable, are available for a rate of:

Refer to the Seasonal Overview section for Product Allocations by Period

*Pricing has been updated for FY25