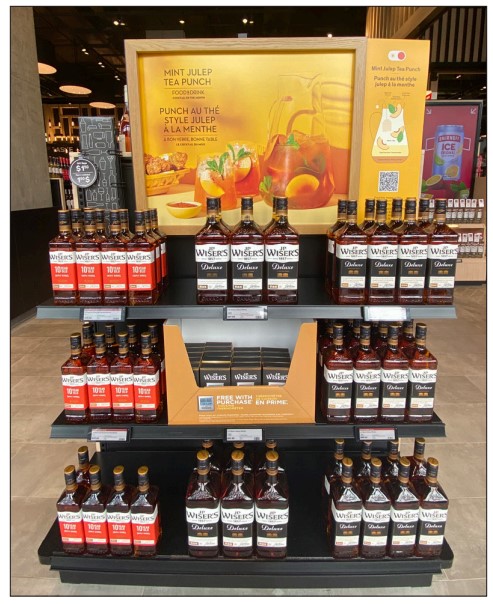 This display is located on End Aisle 1 and is the home of the Cocktail of the Month (COTM) program, highlighting Food & Drink featured cocktails of the season. This program will turn every promotional period.

LCBO is seeking large volume SKUs, brand and relevant multi-brand opportunities to represent the LCBO-chosen cocktail of the month for each period; see product focus information below.

Cocktail themes to be released prior to application deadlines and posted on www.doingbusinesswithlcbo.com.

This is an Excel Applied Promotional Program. Please apply by completing the Excel Application Form before the deadline.
Engagement:
• 384 Stores total
• Refer to the Participating Store Lists linked below for stores and flighting information


Assortment Requirement:
• 2-4 SKUs (including Value-Adds, if applicable)


Employee-Led Tastings:
• 30 employee led-tastings at 10 store locations.
• 6K+ Engagement
• 36-48 units per tasting
LCBO.com Placement:
• Paid Product Placement: Prime (first page) placement on the respective sub-category search page on LCBO.com. This placement results in 6.8x more likely to be clicked vs second page placement.
• Program Page (Note in all instances of flighting and multiple participating brands, the Feature Page will be assigned to a flight at LCBO Merchandising's discretion.)
• 15 sec Cocktail Engagement Video: 300K impressions
This Package, inclusive of all opportunities and non-negotiable, is available at the following rates:
Cocktail of the Month Online Page Details
How it Works
This offer is now an additional automatic, non-optional component to the Cocktail of the Month, featuring enhanced messaging and communication under the story umbrella of the Cocktail Solution.

This page will serve to engage customer with our Food & Drink COTM video and recipe, and drive conversion of participating SKUs.


What's Included
Program Page for the Cocktail of the Month on lcbo.com:
1. Cocktail Video produced by LCBO with Cocktail recipe developed by LCBO and Food & Drink.
2. Featured Cocktail Recipe and Food
    Matches
3. Product grid will feature products participating in the Cocktail of the Month Program, product image, brief description and BUY NOW button linking to PIP (product information page)
• Image Box on Category Landing Page drives to Program Page
• Cocktail of the Month video driving to online Feature/ Program Page and LCBO Connect app (Employee Training).

LCBO.com Paid Placement Positioning:
• Prime (first page) placement on the respective sub-category search page on LCBO.com. This placement results in 6.8x more likely to be clicked vs second page placement