e-Commerce Program Components:
Online Exclusives (Products With Value-Adds)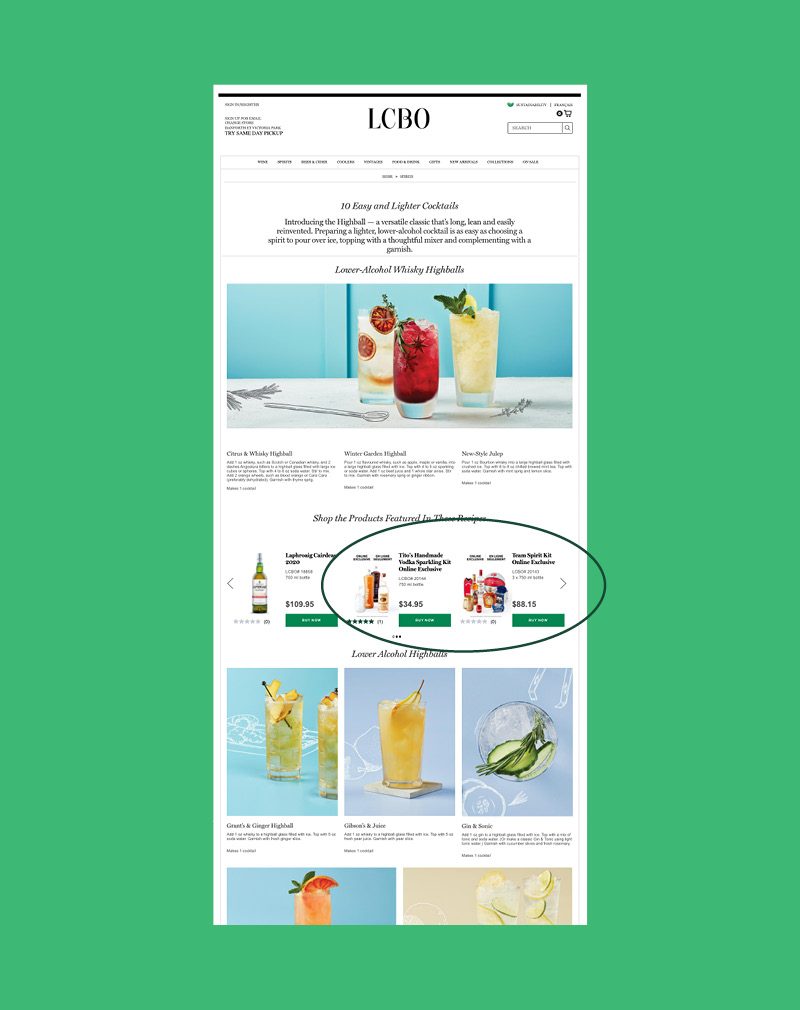 How It Works
Building on LCBO's successful Wine Wednesday Program, we are looking for products that offer great Value-Adds exclusively for our eCommerce channel across all categories.
The product itself does not need to be an eCommerce exclusive, but the offer (product with value-add) must be an eCommerce exclusive. Offers can be single or multiple products with a value-add. The value-add is the offer 'story'.
Successful value adds over Holiday Season have included blankets, board games, quality glassware, gift-cards for province-wide retailers and restaurants, but we are open to all types of ideas that can drive strong sell-through of the offer (minimum target $50K to $70K in sales over the season).
This is an Excel Applied Promotional Program. Please apply by completing the Excel Application Form before the deadline.
What We're Looking For
We are looking for unique, solution-driven and premium value-adds that are going to drive customers to purchase your product online. As this is an online exclusive offer, we are not restricted by retail shelf constraints, so get creative!
- General list spirits, beer, cider, RTD, wines and Vintages Essentials are eligible to participate
- Note: We encourage participating products in Spirits EA 1-4 Value-Add Partnerships to present enhanced eCommerce offers through this program
We are looking for the product(s) and value-add offer to align with the larger promotional/seasonal themes and/or align to key occasions/events
What's Included
- Feature placement on the day the offer launches on lcbo.com's respective Category Landing page
- Feature placement on the Online Exclusives page until the offer is sold through (up to four weeks). The expectation is that the offer will sell through within ONE WEEK
Notes
- Value-Adds must adhere to the AGCO rule that the value add cannot exceed 20% of the value of the product(s) to which it is applied.
- Minimum sales forecast $40K for all offers
- There is no cost to participate in this program at this time; bring us your very best Value-Adds!
- Any scheduling of Social and CRM supports will be determined by LCBO and will be dependent on inventory availability
Supplier Value-Add Requirements
- All offer contents (tools, branded box, etc.) 
- Packaging colour
- Quantity of value adds
- Size (mL) if applicable 
- Type of glass – rocks, balloon, martini 
- Is it branded?
- Is the value add FREE? Or incremental in cost?
- Any extra unique aspects
Pricing Information
- There is no cost to participate except for the cost of the value-add
Document Downloads
This is an Excel Applied Promotional Program. Please apply by completing the Excel Application Form before the deadline. 

To apply, download the Application Form posted on the Promotional Calendar page, complete and return to your Category Partner by the noted deadline.