The LCBO has been an international leader in reducing beverage alcohol container waste for close to a decade.
The Lightweight Glass Bottle Program launched in 2010 and focused on 750ml volume products. Building on the success of the program and our commitment to sustainability, we expanded this program to include 1L and 1.5L glass bottles.
Lightweight glass provides ergonomic benefits for our Retail and Supply Chain employees through reduced case weight handling, reduces carbon emissions through more sustainable distribution, and recognizes sustainability efforts by our suppliers and partners in the beverage alcohol industry.
With well over 90 per cent of products packaged in 750ml glass bottles meeting the LCBO's lightweight glass requirements today, we have reduced annual waste by more than six million kilograms: that's the weight of 60 blue whales.
The LCBO's Lightweight Glass Bottle Program has had national and international environmental influence: wineries have adopted lighter bottles to supply the LCBO, and other liquor Jurisdications have followed the LCBO's lead, introducing the policy into their business model. Our accomplishment is a credit to our partnership with our Trade Suppliers, and we thank all of our partners who have worked together with the LCBO to evolve product packaging.
Our lightweight glass policy touches all three pillars of the LCBO's new Spirit of Sustainability strategy: Good People, Good Planet and Good Partnerships. 
Application
The Lightweight Glass Policy applies to LCBO and Vintages Essentials Wines and includes:
- Flavoured, Fortified, Aperitif, Dessert wines, Fruit wines & Light Refreshing Wine Beverages
- 750 mL Glass bottles, with a retail value less than $19.00
- 1L and 1.5 L Glass bottles, irrespective of retail price 
Glass Weight Requirements
For non-hock bottles of 750 mL, the maximum weight is 420g and the weight tolerance is 15g.
For hock bottles of 750 mL, the maximum weight is 460g and the weight tolerance is 15g.
For bottles of 1 L, the maximum weight is 550g and the weight tolerance is 20g.
For bottles of 1.5 L, the maximum weight is 700g and the weight tolerance is 25g.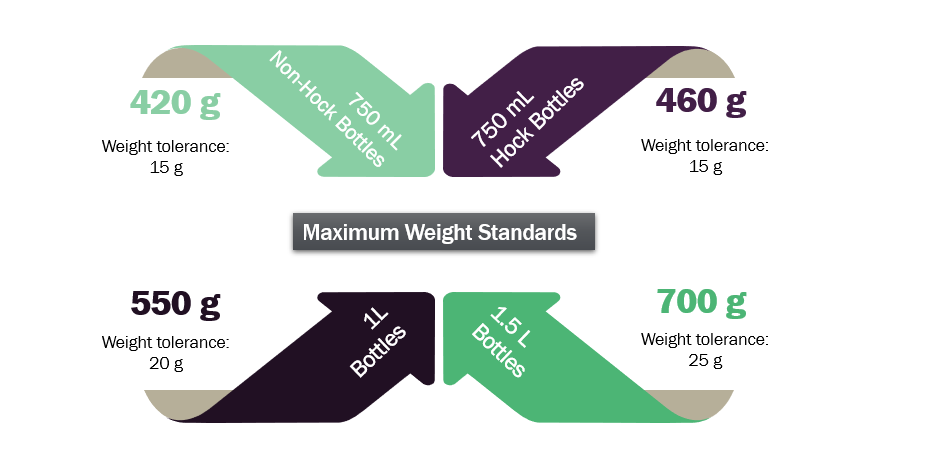 Non-conformance Fees
Products that are found non-compliant with this program will be charged a fee of $1.00 per bottle.
Products meeting the eligibility requirements for the 420g but weighing 620g or more will be discontinued at LCBO.
The following exemptions apply:
 Vintages Front Line Releases & Virtual Offerings
 Niche & specialty purchase Vintages products:

Annual order case volumes less than 350 (9 L) cases
Packaged in 750 mL glass bottles, retailing more than $18.95

 Sparkling & Effervescent wines:

Surcharged with a CO2 pressure ≥ 120 kPa @ 10 ◦C
Includes crackling, petillant and frizzante type wines
For exempted and premium (over the Retail price threshold) products, LCBO encourages suppliers to continue to focus on reducing the weight of packaging and the environmental footprint.