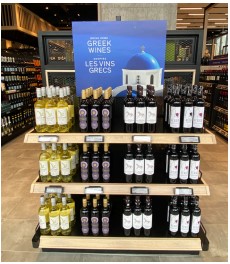 This opportunity has been developed for select displays in a small group of stores, matched to a featured destination, or community event. This display is a extension of our Destination Collection strategy (and includes all product categories), and is meant to showcase smaller regions or ethnically relevant products during important cultural occasions in targeted stores.

We have calendarized the opportunities in the Seasonal Overviews, linked below. Additional opportunities are also encouraged to apply.

This program will live on an End Aisle, as determined by LCBO Merchandising and Customer Experience, which means each period (where programmed) will have its own tailored distribution, targeting a key community occasion or small Trade Association.
• Participating products are encouraged to support displays with Aeroplan, LTO, VA or Contest programming
• Participating products are encouraged to apply for tastings to enhance the in-store display
• Trade Associations are required to apply through the excel applications and reach out to category to discuss partnership opportunities

This is an Excel Applied Promotional Program. Please apply by completing the Excel Application Form before the deadline.

Engagement:
• 2-30 stores
• Refer to the Participating Store Lists linked below for stores and flighting information.

Assortment Requirement:
• 3-9 SKUs
• Participating product must include continuously listed SKUs; but may also include Vintages Release/Destination Collection Boutique Exclusives in the appropriate stores
This Package, inclusive of all opportunities and non-negotiable, is available at the following rate: