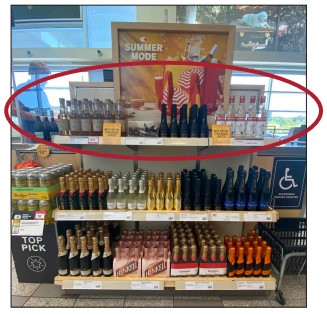 The Spirited Pick program highlights small format spirits with a solution-oriented focus at the highest area of impulse in our stores. Simple mix/cocktail solutions are featured for participating products, alongside supporting incentive programs to drive trial and discovery of spirits products.

This promotional program includes placement within an LCBO created digital playlist (approx. 6 seconds in length) that will be played for the duration of the promotional period at select checkouts at stores 217 and 164.

Preference will be given to small format spirits that hold the promotional placement over two periods. Products that pair together to create simple cocktail solutions will be given preferred consideration.

This is an MPTS Applied Promotional Program. Please apply through MPTS directly before the deadline.
Engagement:
• 237 stores total
• All stores with minimum two full sized FEM to receive the Spirited Picks program on the fixture closest to the entrance.
• Refer to the Participating Store Lists linked below for stores and flighting information.

Assortment Requirement:
• 2 SKUs

Digital Screens:
• Includes placement in digital screen at the Cash Area of stores 217 and 164

This Package, inclusive of all opportunities and non-negotiable, is available at the following rates:

Refer to the Seasonal Overview section for Product Allocations by Period.

*Pricing has been updated for FY25