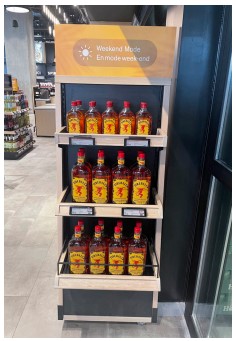 The Spirits Cold Room Display program provides spirits display space in high-traffic areas near the beer cold room to encourage cross-category shopping. There is an affinity between beer customers and spirits customers, and this program is aimed at encouraging beer customers to view Spirits as an appropriate and relevant beverage alcohol choice for a variety of occasions throughout the seasons.

This program is executed on an A-Frame fixture, adjacent to the Beer Cold Room or Beer Zone. This display will rotate on a seasonal basis. This display could be a single supplier or a multi-supplier opportunity.

This is an Excel Applied Promotional Program. Please apply by completing the Excel Application Form before the deadline.
Engagement:
• Optional Supplier produced merchandiser: Artwork and merchandiser MUST BE provided by supplier and approved by LCBO. Value-add Merchandisers to be made sized for both Plinth and/or End Aisle participating stores. Click here for guidelines.
• 135 stores total
• Refer to the Participating Store Lists linked below for stores and flighting information.

Assortment Requirement:
• 3-6 SKUs (including VAs, if applicable)

This Package, inclusive of all opportunities and non-negotiable, is available at the following rate:

Refer to the Seasonal Overview section for Product Allocations by Period.

*Pricing has been updated for FY25